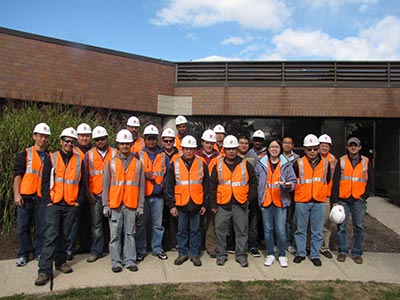 Welcome to Wang Technology, your premier source for Geotechnical and Structural solutions. At Wang Technology, our mission is to support
you in meeting the requirements of
your project. We are committed to
meeting the individual needs of each
client and delivering the highest quality
of service.
For more than 25 years, Wang Technology has continually advanced the industry, delivering stellar performance on many critical, high
profile projects; thus setting the standard for Geotechnical and Structural Instrumentation in the Greater New York Metropolitan area and the San Francisco Bay Area.
---
Company History
Wang Technology was originally founded in 1988 as Wang Engineering. Over our 25-year history, Wang Technology has become the standard in Geotechnical and Structural Instrumentation in the areas we serve. Through years of experience and premier customer service, we have continuously broken new ground in advancing the industry.
We are a full-service Geotechnical and Structural Instrumentation and monitoring firm. We provide complete, integrated, and cost-effective solutions to you in order to meet your particular monitoring needs.
We have performed extensive instrumentation and monitoring work on virtually all of the large-scale public infrastructure projects in the New York Metropolitan area, this includes projects like the World Trade Center Transportation Hub, the East Side Access projects, the Second Avenue Subway projects, the Central Subway Tunneling projects and the Fulton Street Transit Center. Click here to view our Project Showcase.
---
Geographic Areas of Operation
Strategically located in Central New Jersey. Wang Technology is well suited to provide solutions to numerous major metropolitan areas in the Northeast. In 2011, we expanded our scope of operations with the opening of our west coast office in San Francisco, California. Today, we are proud to be serving various regions throughout the continental U.S.
---
Our Executive Team
Wang Technology is comprised of industry leading individuals working together to provide the finest Geotechnical and Structural Instrumentation monitoring service available. We take pride in being the most well-respected and experienced authorities in Geotechnical and Structural Instrumentation. Our Team consists of individuals with some of the highest qualifications for Geotechnical and Structural Instrumentation and Monitoring projects, combining individuals from a variety of disciplines and backgrounds.
---
Wang Technology's success as a quality Geotechnical and Structural Instrumentation firm is a direct reflection of our ability to foster a work environment that encourages long-term employment. Wang Technology is continuously searching for qualified candidates who strive for excellence and desire to become a contributing member of our team. Please feel free to submit a cover letter and resume to careers@wangtechnology.com